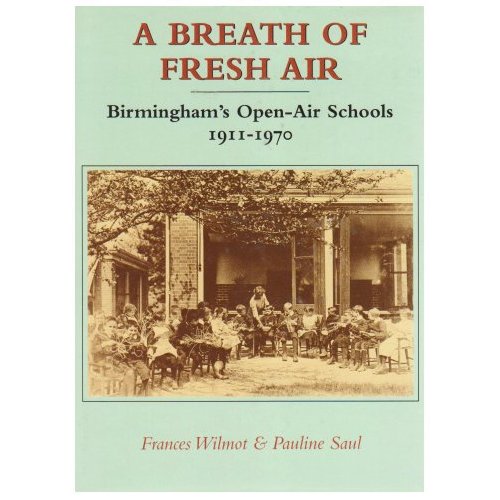 The history of Birmingham's open air schools have been covered comprehensively in the above book.
-----------------------------------------
An appeal for information about Cradley Heath Open Air School.
Does anyone know anything about the open air school in Cradley Heath (in Sandwell, West Midlands)?
We have been contacted by someone whose mother worked at the school in the 1950s and we'd love to know more about it.
Please email if you can help.
------------------------------------------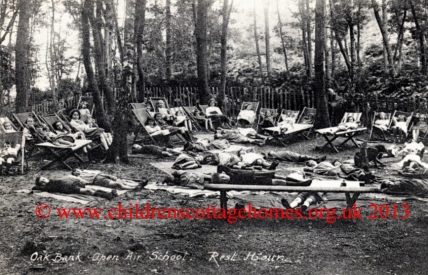 Open Air Schools
Open air schools, as an idea, was not restricted to England but in fact began on the continent the early 1900s.
They were first conceived as a way of tackling tuberculosis which affected large numbers of people before the Second World War. The idea behind them was very simple - children would get as much fresh air as possible, spending much of their day outside and perhaps sleeping outside or in wards which were open to the elements. The schools were residential and some children could live there for much of their childhood. Others stayed for only a short time.
While the initial focus on many of the first open air schools was on TB, later the focus shifted to more general health issues which it was felt would benefit from fresh air and exercise. Many of the children going into open air schools would have been described as 'delicate'.
The first open air schools in England were opened in London in 1908.
In his book 'The Open Air School' written in 1914, Hugh Broughton describes the very simple means by which classrooms were designed to allow fresh air in: "the room may be open on three sides while on the fourth there is a blank wall giving accommodation for blackboard pictures and cupboard."
After the second World War, there was a change in open air schools thoughout the country as described in
'The Open-Air Schools of Bristol and Gloucester'
by J. Shorey Duckworth (2005): "After the Second World War the situation with regard to open-air education changed dramatically. New treatments, including antibiotics had been introduced and new ideas formulated for dealing with 'delicate' children. Standards of living improved and the incidence of TB declined. More and more physically handicapped children were sent to the schools".
Marsh Hill Open Air School, Erdington
Holy Cross School, Broadstairs
Oak Bank Open Air School, Sevenoaks
Oak Bank House Open Air School, Gloucester
Springwell House Open Air School
St Dominic's Open Air School, Hambledon
St Patrick's Open Air School, Hayling Island
________________________________________
An appeal about Burnley Open Air School:"Do you have any information on the open air school in Burnley, Lancashire? My mother attended this school and she is often talking about her schooling but I am having difficulty finding any information. The school was near Bank Hall in Thomsons Park, Burnley." MH
If you have any information, or photos, that might help, please let us know. Thank you.
________________________________________
Some examples of open air schools:
Barton Hill Open Air School
open 1914
Barton Hill, Bristol - In 1920 the school moved to St George's Park.
(girls only)
Birley House Open Air School
open pre-1914
Forest Hill, London
Bradford Open Air School
early 1900s
Bradford
Bristol Open Air School
1913 - 1940
Knowle, Bristol
Reedswood Open Air School
opened 1919
Reedswood Park, Walsall
South Bristol Open Air School
1940 - 1953
Bristol
Victoria Park Open Air School
opened 1920
Victoria Park, Bristol